Curtain
&

Drapes Installation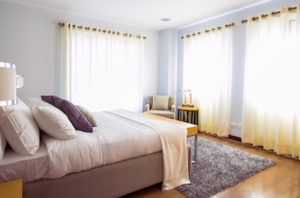 Need a hand installing curtains or drapes? Give us a call today for a FREE estimate. 
Don't have curtains yet? Read on… How To Choose Curtains + 6 Mistakes To Avoid
It's very easy to feel overwhelmed with home décor especially when it has to do with window treatments. This is an important aspect that requires so many decisions on length and lining, color and fabric, and off-the-shelf versus custom-made. No doubt, curtains make a room but this can only be achieved when you choose them correctly. Here are some helpful tips to guide you on selecting the right curtains for your home.
Color and fabric
For window treatments, it is important to consider the texture of your material. As an essential part of choosing curtains, the function and durability of your curtains depend on the fabric. Your choice of fabric relies greatly on the environment. Fabrics like tweed, tapestry, velvet, or suede are commonly used to keep out the cold, as is the case in many hotels due to their ability to keep heat in while blocking light.
Avoid using fabrics with bright colors for a room that gets a lot of light. This is because they tend to fade faster. However, this may not be an issue if you prefer to change out your rooms every now and then.
Length and lining
Before purchasing curtains for your rooms, make sure you get your measurement right.  Take a measuring tape and measure from the top of the window to the floor. Remember to include the added inches of height where the curtains will hang from. Also, make sure to add extra length (4 to 8 inches) on both sides when measuring the width of your window. In order to ensure curtain fullness, don't forget to double the total number.
Off-the-shelf vs. Custom Window Treatments
Like a perfectly fitted suit, you can create a tailored look by customizing the dimensions of your window size. There are quite a few benefits with custom window treatments. Spend a little more money on ready-made curtains or high-quality retail window treatments if custom curtains are not in your budget.

Mistakes to Avoid
Avoid taking incorrect measurements
Measure twice, cut once.
Avoid hanging curtains too low
Give the room a taller feel by hanging curtain rods and draperies at the ceiling.
Avoid buying short curtains
Whether you are buying ready-made drapes or you are making your own custom curtains, ensure that they touch the floor.
Avoid creating scantiness
When it comes to window treatment, fullness is an important factor to consider. For an appropriate fullness of the drapes consider 2 to 2½ times the width of the window.
Avoid creating a messy look
Steam or iron your wrinkled curtains before hanging them to avoid creating a messy look.