Need a new ceiling fan installed? Need an old one replaced.
Give us a call today for your FREE estimate.  
---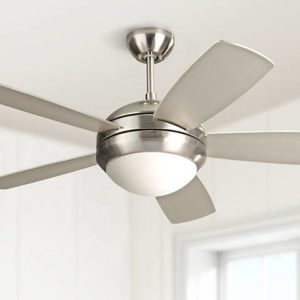 This guide will help you choose a ceiling fan to fit your space and style. Choose between a variety of materials, finishes, and controls, and learn tips for positioning and mounting your ceiling fan.
A ceiling fan can be a stylish and economical way to control the temperature of your living space. In warmer months, a ceiling fan distributes cool air, allowing you to turn up your thermostat and save a significant amount on your energy costs. In cooler weather, ceiling fans force warm air downward.
Choosing the right ceiling fan may seem confusing, but there are a few rules of thumb you can follow to ensure you find the fan that fits your space and your style.
Fan Style and Materials
The options for ceiling fan style are truly endless. When selecting a fan, you will pick between a variety of materials, finishes, and blade configurations.
The typical fan features four blades, though you can choose fans with three or five. The number of blades is not shown to significantly affect performance. However, more blades generally raise the cost of the fan.
Fan blades are available in a wide variety of materials including solid wood, cross-laminated veneer, and the less-expensive veneered constant-density board.
Finishes include natural wood, appliance white, wood finish (cherry, walnut, oak, bleached oak), black, colors, high luster, clear or smoked acrylic, and many more. Reversible finishes are also available; simply flip the blades over for a completely different look.
Be sure to choose from fans with the Energy Star label, which move air 20% more effectively than standard models.
Types of Fan Controls
There are several types of ceiling fan control models on the market. Typically, a ceiling fan is mounted in the location of a former light fixture, which is controlled by a wall switch. The light switch can be replaced with a control that allows you to adjust fan speed and light settings.
Other control options include pull chains or cords for fans not mounted at an electrical box connected to a wall switch, or remote-controlled and programmable styles.
Blade Size
It is important to choose the right size fan for your space. Blades come in different lengths, as measured by the full blade sweep: 30", 42", 44", 46", 50", 52", and 60". Longer blades move more air than short blades.
Typically, a 52" fan works well for a room up to 400 square feet, a 44" fan for a room up to 225 square feet, and a 42" fan for up to 144 square feet. For rooms longer than 18 feet, you might consider using two medium-sized fans.
Location and Mounting
The location of your fan in the room can make a dramatic difference to its performance. Mount your fan closest to where people tend to gather, which is generally the middle of the room. Ensure the blade tips are at least 24 inches from walls or sloping ceilings and that the fan is hung at least 7 feet off the floor.
In rooms with ceilings of standard height, you can mount your fan close to the ceiling. For ceilings higher than 8 feet, hang the fan from a drop rod to increase effectiveness. The height of the ceiling will determine how low you should hang the fan. Here is a useful guide:
| | |
| --- | --- |
| Ceiling Height (feet) | Drop Rod Length (Inches) |
| 9 | 12 |
| 10 | 19 |
| 11 | 24 |
| 12 | 36 |
| 13 | 48 |
If you are installing a fan outdoors or in a bathroom, be sure to check the models wet/damp rating. For outdoor installation, look for a fan with a UL "wet" rating. For bathroom installation, look for a UL "damp" rating.
Finally, be sure the fan is securely mounted to a supportive location in your ceiling. The motion and weight can strain hangers, so be sure to mount to conventional ceiling light fixture boxes securely, or attach to hooks, metal crossbars, or hangers meant specifically for fans.
And if you're in the Milwaukee area, and need help choosing and mounting a ceiling fan give Best-Handyman.com a call today!