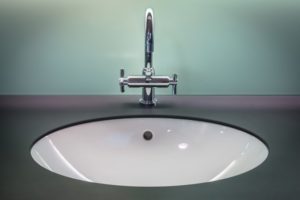 Looking to remodel your bathroom? Give us a call today to schedule your free estimate.
At Best-Handyman we have remodeled dozens of bathrooms. Whether you need help installing a new vanity, adding a shower stall, putting in a backsplash or tiling, or completely tearing out and remodeling your entire bathroom, we can help. No job is too big or too small.
Before undertaking a bathroom remodel though, there are some questions that every home owner should consider.
Why do you want to remodel your bathroom? 
This is perhaps the most important question. Are you remodeling for your own aesthetic pleasure? Do you need more space or storage? Do you need additional features & functionality? Or perhaps you are looking to remodel your bathroom before selling your home. By being honest with yourself in this stage, you'll be in a much better position to design a bathroom that fits your needs. And by letting your contractor know your motivation for the remodel, they will be in a better position to help you come up with a design and plan that best suites your needs and desire.
What is your budget? 
As you can imagine, bathroom budgets vary considerably.According to Home Advisor, the average bathroom remodel cost in 2016 is about $9,400.  If you only have a couple thousand dollars to invest in your bathroom remodel, that is completely fine. On the other hand if you have $30k to invest, we'll be able to do a lot more. Your budget is no problem to us. We can work within a variety of budgets. But your budget is the number that allows us to work within your means to create a plan that fits your needs. If you know your budget upfront we'll be in a much better position to help you get what you want, and help you prioritize your options.
Functionality & Layout?
Are you happy with the current layout and functionality of your bathroom? Or do you want to move things around to improve the spacing or flow of your bathroom? Or do you just want to give your bathroom a facelift so it doesn't look like it's from the 1970's. We see lots of pink and green tiled bathroom in the Milwaukee area, so we couldn't blame you if you want to get rid of it :). Or do you simply want to add functionality, such as cabinets, vanities, sinks, a shower, or maybe a soaking tub?

We suggest spending some time thinking through what it is that you ultimately want in your bathroom and then writing down a list of priorities. Anything can be done, it's just a matter of what fits into that budget you created above. By prioritizing your wants & needs, we'll be able to help you work through your options and create a bathroom plan that you'll love and enjoy.

What look & feel do you want? 
Once you've answered the aforementioned questions, it's time to think about the fun stuff – the individual design elements. With so many different products on the market today, homeowners can literally create any feel and design they can imagine. If you haven't already done so, take some time and browse Pinterest for design ideas. It's a great source for inspiration. In fact we regularly have customers who come to us with pictures they've found on Pinterest, and asked us to use them as the jumping off point for their remodel. Once you have an idea of what colors, materials, and finishes you're interested in, we can gladly help you come up with a plan that fits within your budget. Or if you're just not sure what options may be best for your remodel, we're happy to discuss with you and help you figure out what look & feel makes sense for you and your bathroom.
How important is property value? 
We've had some pretty interesting requests over the years with bathroom remodels. And in those times, we've had to politely ask customers if they would consider selling their house later on. If so, we've discussed the impact that home owner's design requests will have on their ability to resell their homes later on. Certainly a nice bathroom remodel can yield a nice profit later on when you sell your home. However if your taste is too unique potential buyers may be put off by the bathroom design, and you won't get as much a return on your investment as you may have had you chosen a design with more mass appeal. Ultimately the choice of design is yours, but we always want our customers to be sure they are thinking long term when it comes to a bathroom remodel. If you plan on selling, you're generally best served using design elements and fixtures that are more common. On the other hand, if you don't care about selling, or if property values are of no concern, then by all means go with the all pink bathroom that you've dreamt about since you were a little girl. We'd be happy to help you make that dream a reality.